Well done to our U-14 girls who defeated a gallant St Mary's team in the 2016 A Championship final in Cloonacool in a game that went to extra time. 
Our girls took an early lead with some delightful scores but St Mary's always stayed in touch with scores of their own. The girls in green and gold pushed on and added to their tally and led at half time on a scoreline of 2-6 to 1-1. St. Mary's came out strong in the second half and ran in 3-5 points but our girls responded excellently and scored a further 2 goals of their own. As the final whistle blew, it was all even at 4-6 each. 
In the first half of extra time, the girls showed their All Ireland Feile Championship experience as they rattled in some brilliant scores. St Mary's never gave up and pushed our girls all the way but as the final whistle blew it was celebrations for our side on a scoreline of 7-10 to 5-8.
Joint team captains Ellen Bailey and Claire Hegarty accepted the cup on behalf of our time. This is the second year in a row for this group of girls to win the A Division. Well done to all the players, management and parents of this very talented bunch of girls who have had an exceptional year. 
Team: Erica Walsh, Claire Hegarty, Katie OHara, Jane Corcoran, Eva OHara, Ellen Bailey, Orla Fleming, Leonie Gaughan, Sarah Cunney, Ali Walsh, MaryAnne Carr, Caitriona Mooney, Caoimhe Gilligan, Mariah Normanley, Ciara Brennan, Katie Cunney, Emma Hegarty, Lauren Normanly, Cora Gilligan, Amy Kennedy, Erin Deehan, Katherine Brennan, Leah Walsh. 
Management: Leo Gaughan, Pat Hegarty, Anna Corcoran, Sharon Hegarty.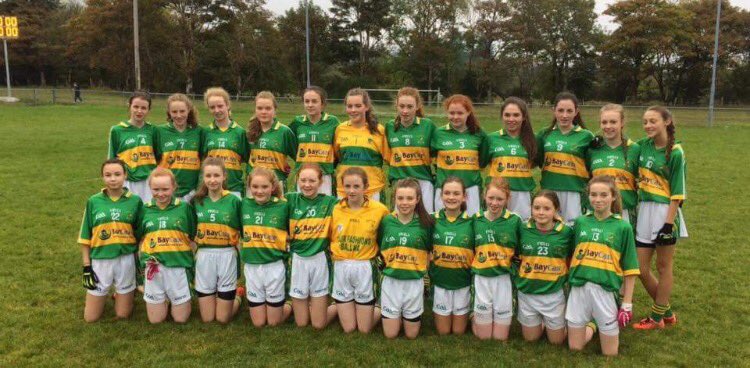 Best of luck to our U-16 girls team and management who play in the A Championship Final this weekend. The team will play either Drumcliffe/Rosses Point or Shamrock Gaels. This semi final has yet to be played. 
It has been an extremely busy, yet proud, 7 days for our Senior Men's team. Having captured the Sligo Senior Championship title over St. Mary's on Sunday last, the celebrations came to a halt as they prepared to defend their Division 1 League title. The team showed huge character in the second half to push on and win. Having conceded a penalty the team went down 4 points down with 10 minutes remaining, but Man of the Match, Adrian McIntyre, who scored 2 points in the game, pushed the team on and a well taken point by John Marren in injury time ensured that Tourlestrane Senior Men were crowned Division 1 League winners. The full time scored board read 0-15 to 1-11. This title is the teams 3rd title of the year having won the Championship and the Kiernan Cup. The club are extremely proud of this group of dedicated players who have given so much joy to our parish over the last few weeks.
The Connacht Club Championship has been postponed by a week to allow the Mayo Club Championship to be played. Tourlestrane will face the Mayo Club Champions on the weekend of the 5th/6th of November in Markievicz Park at .
Team: Padraig McVeigh, Colin Neary, Brian Kennedy, Noel Gaughan, John Francis Carr, Shane Dunne, James Leonard, Adrian McIntyre, Stepehn Henry, Pat Harte, Gary Gaughan, John Kelly, Brian Egan, Cathal Henry, John Quinn. Subs: Barry Walsh, Diarmuid Dunne, Liam Gaughan, John Marren, Alan Dunne, Niall Egan, Oisin Kennedy, Rian Kennedy, Darren Leonard, Darren O Hara, Richie Lang, Enda Kelly, Barry Kirrane, David O'Hara, Colm McVeigh, Kenny Gavighan, Niall Durkin.
Hard luck to our Junior A team who lost to St. Michael's in the Junior A Championship on Sunday last. The team have put in an excellent season and showed pride in the club jersey giving their all until the final whistle. Former All Star and Joint Senior Manager, Eamonn O'Hara scored two excellent goals in the first half but it wasn't enough against a strong St. Michael's team. The final score 4-12 to 2-5. 
Team: Fintan Kennedy, Shane Neary, Colm McVeigh, Niall Durkin, John Paul Lang, Barry Kirrane, Richie Lang, James Curley, Kenny Gavigan, Darren O'Hara, Gerry McGowan, Ciaran Walsh, Enda Kelly, Eamonn O'Hara, David Durkin, Ruairi Brennan, David O'Hara, Jerome Quinn, Daniel Clarke, Enda Gallagher, Barry Brennan, Brian Rock Walsh, Brian Walsh, Matthew Lang, Jimmy Walsh, Gearoid Brennan, Sean Quinn, Diarmuid Brennan, Eamonn Coyne, Tom Brennan.
Congratulations to Eamonn O'Hara, David Durkin and former club man, Con O'Meara who have been named on the Ireland Masters team to compete in the International Compromised Rules test this month. 
Singer, Derek Ryan plays as a Sligo Ladies fundraiser on the 20th of October in the Diamond Coast Hotel, Enniscrone. Doors open at 7pm with the singer taking to the stage at 8pm. Tickets are €20 and are on sale through Maureen Walsh. (087 919 6032) The club has to sell a number of these tickets so if anyone is interested in the event, please contact Maureen as soon as possible, 
The club would like to offer its sincere condolences to former club physio, Maria Armstrong and the Armstrong family, Tubbercurry, on the untimely passing of Maria's brother, Mark. Ar dheis Dé go raibh a anam 
Sligo Senior Champions 2016
Listen back live to the match:
https://soundcloud.com/oceanfm/sligo-sfc-final-st-marys-1-7-tourlestrane-1-14
See highlights of the game:
http://www.tg4.ie/en/player/home/?pid=5152740829001
Captains Reaction:
http://oceanfm.ie/2016/10/03/listen-back-tourlestrane-captain-james-leonard/
Managers Reaction:
http://oceanfm.ie/2016/10/02/listen-back-tourlestrane-joint-manager-eamonn-ohara/